Integrated Forest Gardening
The Complete Guide to Polycultures and Plant Guilds in Permaculture Systems
Permaculture is a movement that is coming into its own, and the concept of creating plant guilds is increasingly at the forefront of every farmer's and gardener's permaculture practice.
Authors Wayne Weiseman, Daniel Halsey, and Bryce Ruddock have created the first, and most comprehensive, book about plant guilds, covering in detail both what guilds are and how to design and construct them, complete with extensive color photography and design illustrations. While other permaculture books address this topic of guilds, none provides enough depth to be replicable in a serious way.
Though detailed, Integrated Forest Gardening will benefit readers of any scale, from permaculture designers and professional growers to backyard growers new to the concept of permaculture.
One of the essential practices of permaculture is to develop perennial agricultural systems that thrive over several decades without expensive and harmful inputs. Those systems include perennial-plant guilds, food forests, agroforestry, and mixed animal-and woody-species polycultures.
The guild concept often used is one of a "functional relationship" between plants. In other words, it is the integration of species that creates a balanced, healthy, and thriving ecosystem. But it goes beyond integration. A guild is a metaphor for all walks of life, most importantly, a group of people working together to craft works of balance, beauty, and utility.
Integrated Forest Gardening provides readers with information on:
What we can observe about natural plant guilds in the wild and the importance of observation;
Detailed research on the structure of plant guilds;
Animal interactions with plant guilds;
Steps to guild design, construction, and dynamics, from assessment to design to implementation;
Fifteen detailed plant guilds, five each from the three authors based on their unique perspectives; and,
Guild project management: budgets, implementation, management, and maintenance.
The massive degradation of conventional agriculture and the global environmental havoc it creates have never been as pervasive, so it has become a necessity to further the under-standing of a comprehensive design and planning system such as permaculture that works with nature, not against it.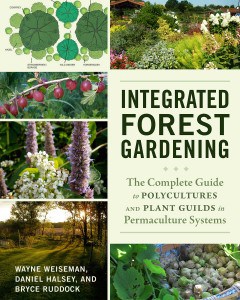 "Integrated Forest Gardening fills a major gap in the canon of permaculture books, giving us, at last, a detailed guide to guild and polyculture design. No longer is this subject mysterious and daunting; in this book we now have specific instructions for designing and installing multi-species plant groups. Chapter 7, which describes 15 guilds and their plant members, is a golden nugget worth the price of the book alone. This is an essential book for all food foresters and ecological designers."—Toby Hemenway, Author of Gaia's Garden: A Guide to Home-Scale Permaculture